It seems like everyone I know has been discussing religion these past couple of weeks. I don't even need to pose the question, what is it about religion, because its obviously a deeply personal belief for each and every one of us. Regardless of your religion or spirituality, each of our opinions on the subject are deeply entrenched. I went through a sort of spiritual journey during my college years. Growing up Catholic, attending a Jesuit university what did I "get" out of the organized Catholic religion? What do I believe? So many years later I think I'm still fine tuning my answer to these questions.
What I've never had to fine tune or even really give much thought to is the subject of religious art. The symbols of religion expressed through the artist's eye have always brought a measure of peace, comfort and connection to something so much bigger than me. The symbol and its expression in art has even been more important than what religion provided the symbol. Regardless of belief structure, I find that they still speak to me of universal truths ... love, kindness, peace, faith.
I recently had the pleasure of meeting an artist, Julianne Carson, who has a stunning pendant titled Virgin de Guadalupe Luxe Necklace. For me, this necklace is the age old symbol of the best part of the Catholic religion. That core of love, a mother's love, that can sometimes get lost amongst all of the other parts of Catholicism. I love that Julianne created this necklace to portray the beauty of her family's faith and honor her mother's strong beliefs.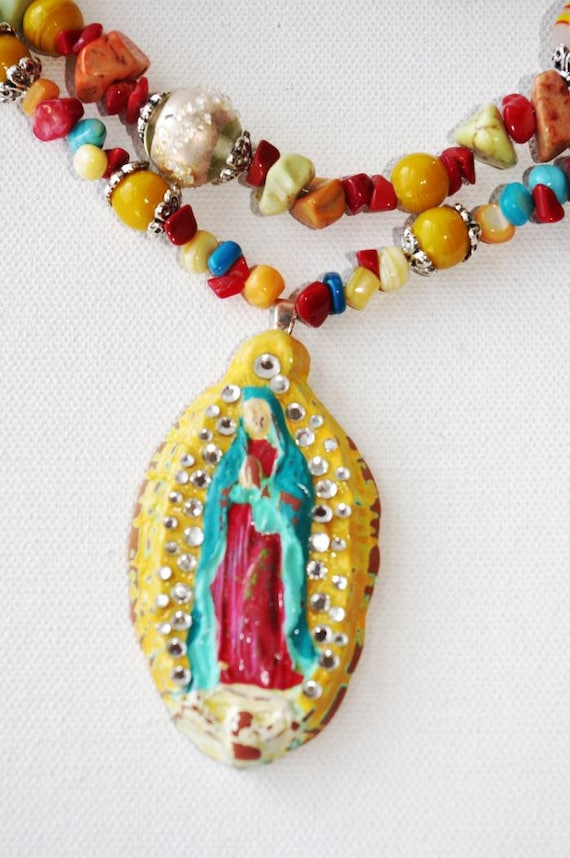 Today is the tenth anniversary of September 11th, a day that will live on in the memory for all Americans unforgotten. Echoing through the years, each of us will always remember where we were, who we were with, what we were doing ... Me? I was blocks from the Sears Tower in Chicago's financial district and certainly a potential target in the moment when no one knew what would happen next. I remember being worried, okay freaked out, but I was also with my mother. She gave me a ride home that day.
That day will always remind me of many, many terrible things, but also of my mother's love and all of the beautiful goodness of the human spirit. How wonderful each of us have the capacity to be towards ourselves and each other if we let ourselves. This essence captured in a beautiful necklace of how connected we all really are and can be.
Julianne began making beads and pendants about 16 years ago as a hobby giving them to friends and family. She now has a wonderful business that I hope you will take some time to explore! You can find her online at
http://www.etsy.com/shop/Hippiechicjewelz